Choosing a forum hosting provider can be overwhelming. There are so many options available, and each one seems to offer something different. So how do you know which one is right for you?
In this blog post, we will take a look at 10 of the best forum hosting providers currently available. We will discuss what each provider offers, how much their packages cost, and what sets them apart from the competition.
Hopefully, by the end of this post, you will have a better understanding of which host is right for you!
1. SiteGround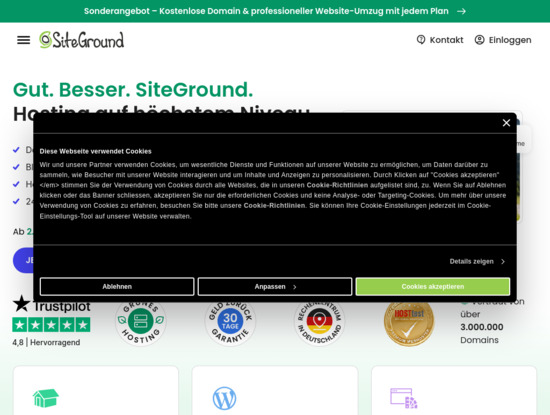 SiteGround is a popular web hosting provider that offers several different hosting plans at a reasonable price. It can be the best choice for hosting a forum. It supports auto-installation of all the popular forum applications, including phpBB, vBulletin, SMF, MyBB, IPB, and others.
Here are some other features that make SiteGround a top-notch hosting provider:
Industry-standard 99.99% server uptime.
Free SSL certificate and daily backups.
HTTP/2 and SSD support for high performance.
Three layers of security to prevent cyberattacks.
Numerous server locations with free CDN.
Quality technical support; available 24/7.
The cheapest plan offered by SiteGround lets you host a single website, support up around 10,000 traffic, and all other features that you will need for hosting a forum.
2. GreenGreeks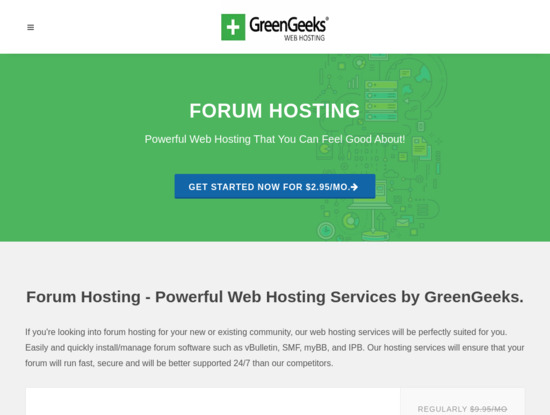 GreenGeeks is considered one of the best forum hosting service providers. Equipped with 1-Click Forum Script Installer, their hosting plans let you easily and quickly install forum applications like vBulletin, SMF, IPB, myBB, etc., to get your forum up and running in no time.
Some of the features that make GreenGeeks a great forum hosting provider include:
Free forum transfer service.
Free CDN and daily backups.
Unrestricted SSD RAID-10 Storage
Multiple server locations to choose from.
24/7 expert technical support.
Their hosting packages start with 50 GB storage, unlimited databases, built-in caching, and much more. One of the interesting aspects about GreenGeeks is they plant one tree for every website that joins their hosting services.
3. A2 Hosting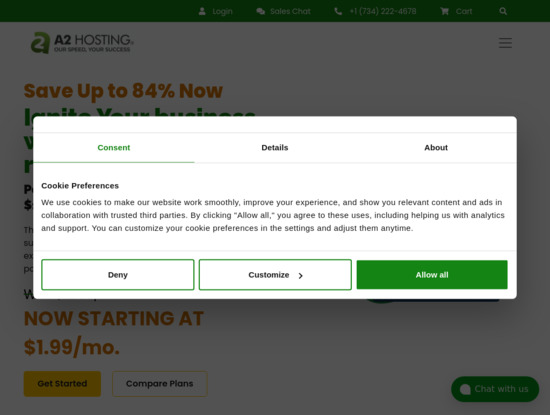 A2 Hosting is well-known for offering high-speed hosting servers. As per the provider, their turbo servers are 20x faster than the regular servers. The hosting packages are also forum-friendly. You can easily auto-install any forum application like phpBB, vBulletin, FlatBoard, MyBB, AEF, Vanilla, FluxBB, Phorum, and much more.
Some of the features that make A² Hosting that sets them apart from the competition include:
20x faster Turbo Servers.
Up to 99.99% uptime commitment.
Expert crew supports 24/7/365.
Support lots of forum applications.
Free account migration.
A starter package supports one website, 100 GB hosting, unlimited emails, free SSL, free migration, and other standard features.
4. Cloudways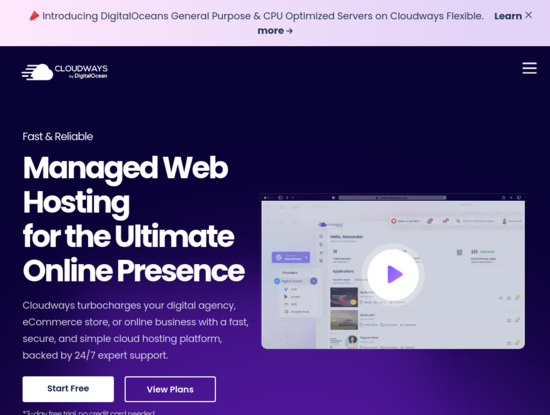 Cloudways is a managed cloud hosting platform that offers an easy way to host your forum. You can use this platform to host forums powered by VBulletin. However, it is not clear whether they support the free installation of other forum software.
The top features of Cloudways include:
CloudwaysCDN to reduce server response time.
Optimized Stack for faster processes.
Dedicated security with TFA, firewall, and others.
1-click operations for more than 50 tasks.
Automated backup and free SSL.
You can get a basic Cloudways account at a very affordable price. The basic package includes many features, including a CDN Add-on, 25GB storage, Security Patching, Advanced Caches, and much more.
5. Hostinger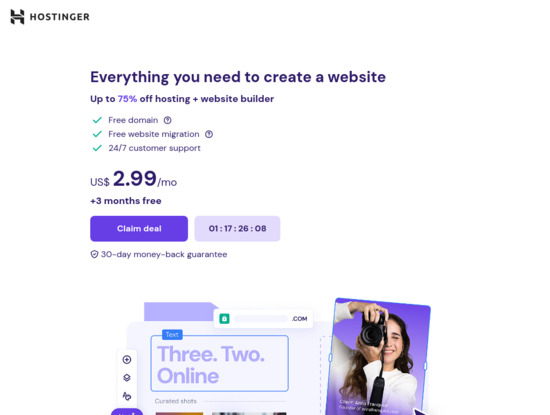 Hostinger offers affordable hosting plans for forum sites and enables you to install popular software options such as phpBB, VBulletin, etc., with just one click. The hosting packages include many features that assure a smooth experience for your forum members.
Here are some features that you can enjoy with Hostinger:
Virus scanner and spam filter.
Automated backup and standard uptime.
Optimized for WordPress.
Custom control panel to manage forums.
Unlimited bandwidth and disk space on most plans.
Their cheapest plan lets you host a single website and use unlimited bandwidth.
6. HostGator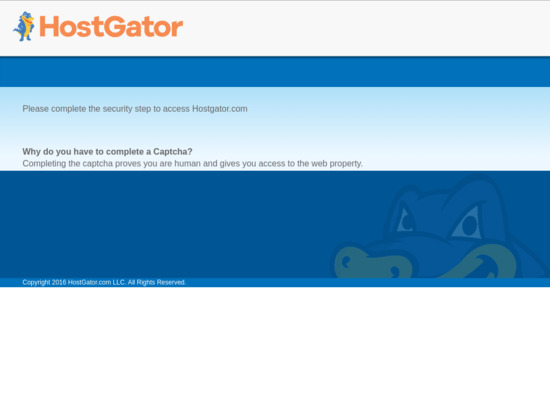 HostGator is another popular hosting provider and offers an easy way to install forums on your website. You can use their one-click installation process to start with many different forum applications, including phpBB, vBulletin, Vanilla Forums, etc.
Some features that set HostGator apart from the competition include:
Unmetered storage and bandwidth on all plans.
Free SSL certificate and domain name.
One-click installation of WordPress.
Unlimited subdomains and FTP accounts.
The cheapest plan offered by HostGator includes most of the features you will need for a forum site.
7. Bluehost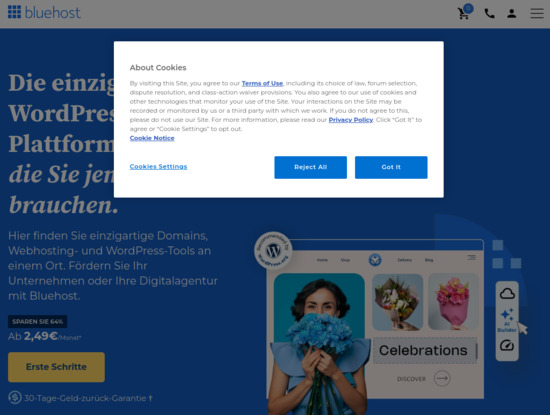 Bluehost is a beginner-friendly hosting provider that offers excellent value for money. It has a wide range of features and tools, including the integration of popular forum software to help you build and grow your forum.
Some top features of Bluehost include:
Unlimited SSD storage on most plans.
Free website builder with AI-driven templates.
Free domain name for one year.
Free CDN and SSL certificate.
Domain privacy and auto backup.
The basic package of Bluehost can host one website and includes 50 GB of SSD storage.
8. InMotion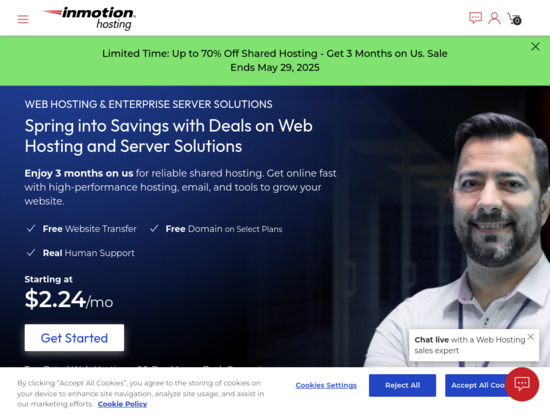 Although not that popular, InMotion can be a great option for hosting your forum. They have a wide variety of services, and their prices are very competitive. You can also install any forum app easily without any restrictions.
Some features of InMotion include:
NVMe SSD Storage (Unlimited) on most plans.
Free SSL and unlimited websites.
Optimized for speed and performance.
Include security suits and marketing tools.
Advanced caching and dedicated IP on pro plans.
The cheapest plan that InMotion includes support for two websites and 100 GB SSD storage.
9. Dreamhost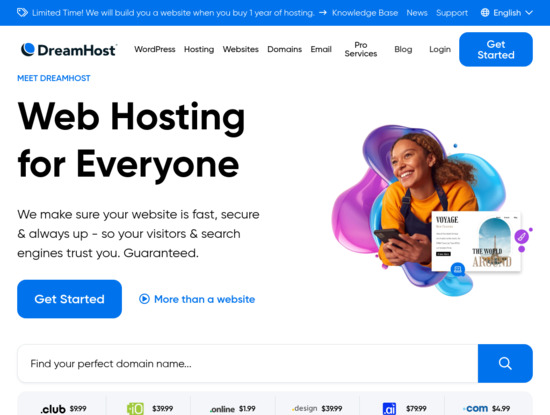 If you are searching for an affordable and reliable host, then you may want to consider Dreamhost. They do support the one-click installation of phpBB, but no information is available about the other forum applications.
Some features of Dreamhost include:
Free domain name for one year.
Unmetered Bandwidth on all packs.
Limited SSD storage.
Include premium plugins with some plans.
The basic package is for one website with unlimited traffic and bandwidth.
10. GoDaddy
GoDaddy is a top domain name registrar, but they also offer hosting services. It lets you install the popular phpBB forum app with one click. Although GoDaddy hosting is not that popular, they offer some fantastic features such as free domain, easy cPanel, and much more.
Some top features you can expect from GoDaddy hosting include:
Easy one-click installation of 150 apps.
Optimal network security with DDoS protection.
Easy one-click domain setup.
On-demand resources for CPU, RAM, Storage, etc.
Conclusion
Forums can be a great way to connect with others who share your interests, and by using one of the right hosting providers, you can ensure that your forum is always up and running without any problems. We've listed some of the top providers in this article, so take your time and compare their features to find the one best suits your needs.