Moodle is a popular e-learning platform used in many schools and universities around the world. It is free and open-source, which makes it an excellent choice for those who are on a tight budget. However, even if you're not on a budget, Moodle still has plenty to offer.
In this article, we will discuss the ten best Moodle hosting providers for 2022. We will let you know what makes the hosting providers great for Moodle and e-learning in general.
So, without further ado, let's get started!
1. A2 Hosting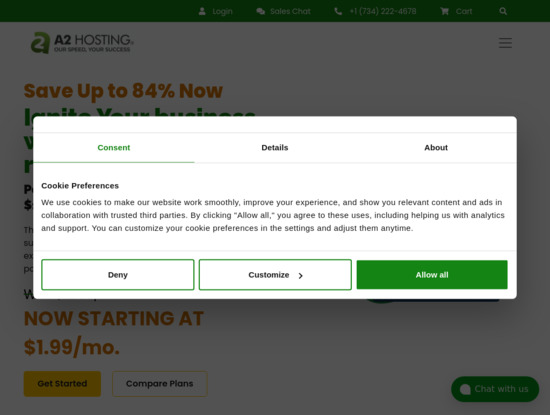 A great option for those looking for Moodle hosting is A24 Hosting. They offer a wide range of features, including unlimited storage and bandwidth, as well as free SSL certificates. They also have a 99.99% uptime guarantee, which is impressive.
What makes A2 Hosting an excellent choice for Moodle is its speed. Thanks to their Turbo Servers, which use fewer resources and provide faster loading speeds (up to 20 times faster).
Here are some other nifty features of A24 Hosting:
Enhanced performance and speed with SSD drives.
Cloudflare CDN and 99.99% uptime guarantee.
Automatic and manual backups.
Advanced security measures to prevent attacks.
The basic plan of A2 Hosting is perfect for small institutes and comes with 100 GB SSD storage and other necessary starter kits for a Moodle site. For more prominent schools and institutes, A24 Hosting offers a wide range of options, including unlimited storage and bandwidth.
2. KeyToSchool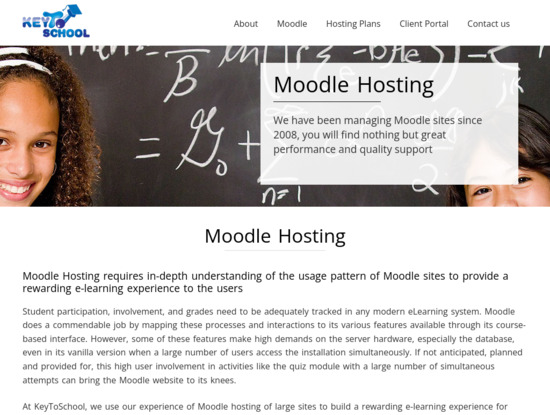 KeyToSchool is one of the best providers you can choose for Moodle hosting. They are a certified Moodle partner, which means that they have been approved by Moodle HQ.
KeyToSchool is also one of the providers that offer you tailored moodle hosting packages. Their plans include generous disk space quotas as well as unlimited bandwidth.
Some features of KeyToSchool are as follows:
Instant deployment with the latest Moodle module.
Daily automatic backup of the site.
Free integration of Congrea Virtual Classroom.
Unlimited courses on all plans.
Cloudflare integration for faster content delivery.
KeyToSchool's basic hosting package arrives with 20 GB active storage and supports up to 100 active users. They do have a cheaper package that you can use for test purposes.
3. Hostinger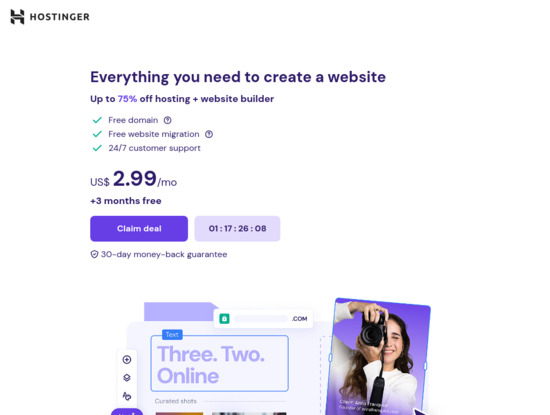 Hostinger hosting provider is known for offering a wide range of features at a very low price point. Most of their packages include unlimited disk space, bandwidth, email, subdomain, etc., which makes them a great hosting provider for Moodle sites.
Hostinger enables you to install Moodle on your site with their one-click installer easily. Their customer support is also very good. They have a team of experts who are available 24/x to help you with any issues you may have.
Here are some features of Hostinger:
Easy drag and drop website builder.
99.99% uptime with automated backups.
Faster loading speed.
Money-back guarantee for 30 days.
The basic package of Hostinger arrives with 100 GB of disk storage, free domain, and some other essential features, while the premium package gives access to a lot of additional features.
4. Bluehost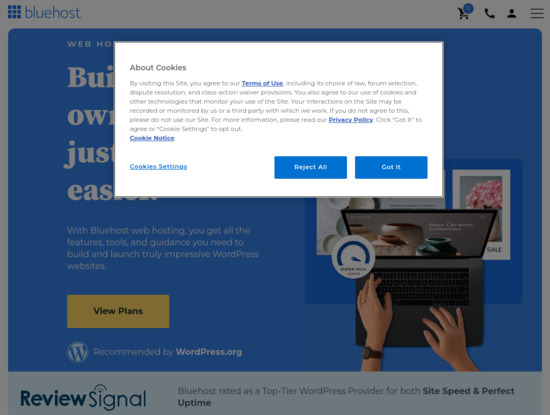 Bluehost is a popular hosting provider, and they are very well-known for their WordPress hosting. However, you can also host Moodle website on their plans. They have quality SSD hosting, which assures content will be served faster. You can also take advantage of their CDN service to improve loading speeds further.
Some top features of Bluehost include:
One-click installer for Moodle app.
Include free domain and SSD with most plans.
Cloudflare CDN integration.
Industry-standard 99.99% server uptime.
With Bluehost's starter hosting plan, you can get support for one website and 50 GB SSD storage. If you need more storage, you can upgrade to their next plan.
5. HostGator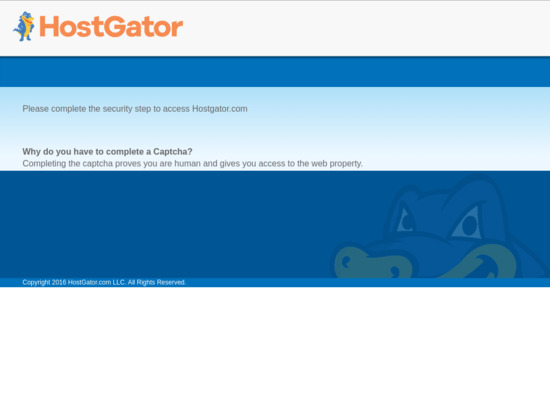 HostGator is a widespread web hosting company that offers shared, reseller, VPS, and dedicated hosting. They are one of the few hosts that offer Moodle as a pre-installed application.
Some of the features you can expect from HostGator:
Free domain name for one year.
One-click installation of Moodle app.
Unmetered disk space and bandwidth.
Free SSL, email, and website builder.
The basic plan of HostGator is impressively cheap, although it includes features like free domain name, unlimited disk space, one-click installation, etc. features. The bigger plans come with additional features.
6. MoodleCloud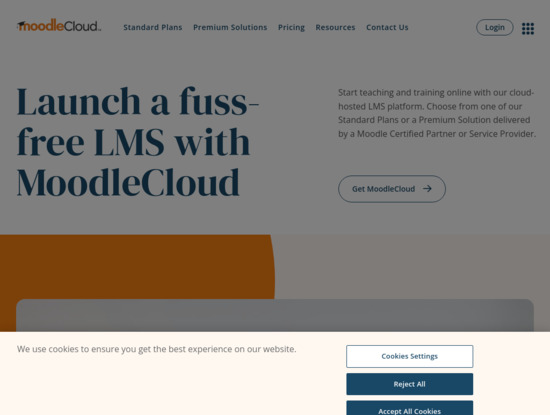 MoodleCloud is a popular and trusted hosting solution for Moodle websites as the Moodle company offers it. It is an excellent option if you are looking for an all-in-one solution as it includes hosting, support, and even a free domain name.
With MoodleCloud, you can expect:
Personalized free site name.
Mobile app integration.
BigBlueButton integration for conferencing.
Document converter, auto backups, themes.
MoodleCloud offers a free plan that is great for small sites or if you just want to try out Moodle. For paid plans, they have different options that offer various features and support for more users.
7. Cloudways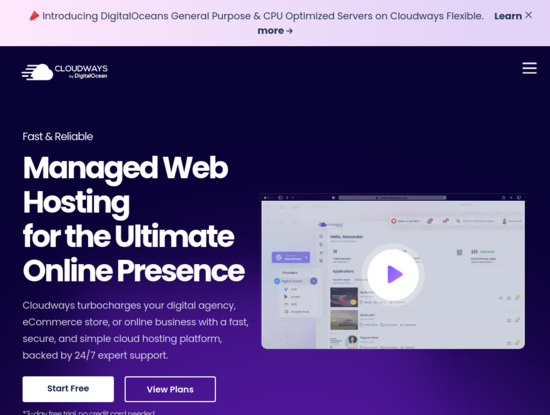 Cloudways is an easy and scalable cloud hosting provider that you select for hosting your moodle website. They offer some advanced features which makes them a good choice, especially for those who will need scalability and flexibility.
Cloudways offers the following features:
Managed hosting with expert support.
Free SSL certificate and migration.
Advanced caching and auto-healing.
Regular security patching.
Cloudways offers a free trial, so you can try out their platform before committing to a plan.
8. Greengeeks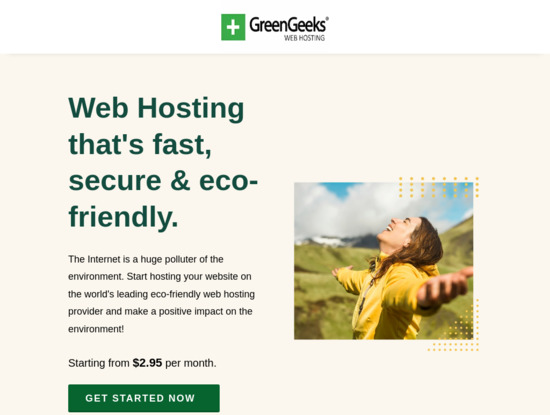 Greengeeks is an eco-friendly web hosting company that offers quality hosting plans for Moodle websites. Their servers are powered by renewable energy which is great for those who are looking for an environmentally friendly option.
Some of the features you can expect from Greengeeks include:
Free website migration and CDN.
30-day money-back guarantee.
Free daily backup of the site.
Generous disk space on all plans.
Greengeeks has three different hosting plans that offer various features. The basic plan is great for small sites, while the other two plans are better for larger sites with more traffic.
9. ScalaHosting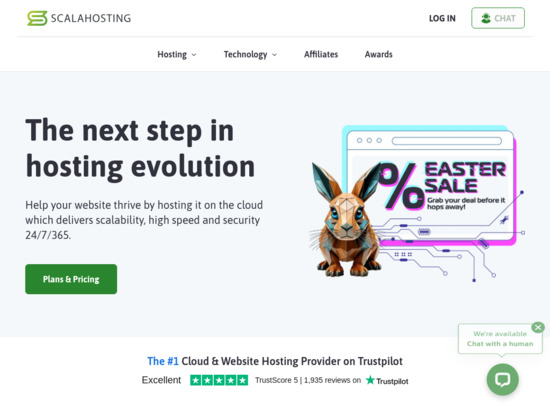 ScalaHosting is a reliable and affordable web hosting company that offers quality hosting plans for Moodle websites. They have some great features that make them a good choice for those who are looking for a budget-friendly option.
Some of the features you can expect from ScalaHosting include:
Excellent site speed with Http/2 on all plans.
Free domain name, migration, SSL, etc.
Automated backups of the site.
Abundant resources on all plans.
ScalaHosting has different hosting plans that offer variable features. The costly plans offer free S-panel integration, which is a great advantage. You can choose a plan that fits your needs and budget.
10. TMDHosting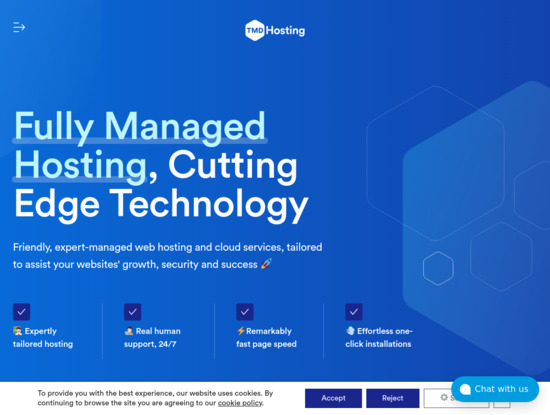 As per the TMDHosting website, their hosting plans are fully optimized for Moodle-based websites. They provide you with the resources and support to grow your online presence without breaking the bank.
Here are some of the features that make TMDHosting a great choice for hosting Moodle websites:
Multi-level caching and all-SSD utilization.
Lightweight NGINX web server for speed.
Free moodle updates.
Several security measures to prevent attacks.
TMDHosting offers diverse hosting plans to choose from, so you easily find the one that best suits your needs.
Conclusion
Moodle is a popular e-learning platform that can be hosted on many different types of web hosting plans. If you are looking for a host that specializes in Moodle hosting, then KeyToSchool, MoodleCloud, etc. would be a good choice. If you are looking for a more general host that offers Moodle hosting as an option, then you can go for any of the other hosts on this list.
Whichever route you choose, make sure to research the different features offered by each host and find one that fits your needs.