Disk cloning software is a critical tool for individuals and businesses alike who want to create backup copies of their hard drives, operating systems, or individual partitions. With disk cloning software, you can easily replicate the contents of one disk onto another, providing an extra layer of protection against data loss, system failures, and malware attacks.
While numerous paid options are available in the market, many free alternatives offer the same level of features and performance, making it possible for anyone to create secure backups of their computer's data without breaking the bank.
This article will explore some of the best free disk cloning software options available in 2023. By the end of this article, you'll have a good idea of which software best suits your needs, ensuring that your critical data is always backed up and secure.
Note: Always be careful when installing third-party software. While I did my absolute best to come up with a well-researched list of the best disk cloning software, we are not responsible for the software or content of external sites.
1. EaseUS Partition Master
EaseUS Partition Master Free Edition is a powerful and effective disk cloning software that lets you easily create exact copies of your hard drive or partition. It is capable of cloning individual partitions or entire disks to any target disk.
It also has the ability to merge, resize, move, and reorder partitions on an active disk. Moreover, it can optimize operations for SSD disk drives, perform file system integrity checks, change partition names and labels, and perform secure disk cleaning.
Available for almost all versions of Windows, the free version of EaseUS Partition Master is capable enough to meet the needs of most users. If you're looking for a comprehensive disk cloning and partition management suite, EaseUS Partition Master is definitely an excellent choice.
2. Clonezilla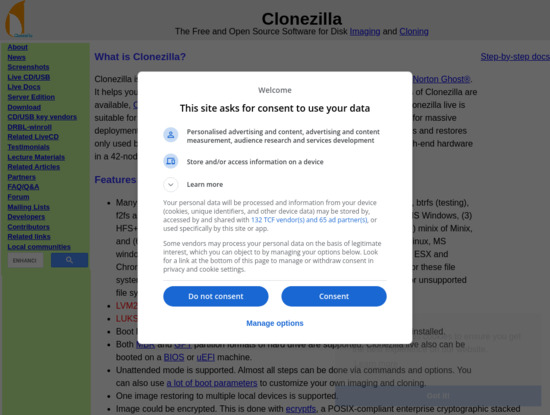 Clonezilla is a popular free and open-source disk cloning software for Windows that can be used to create backups of entire disks or individual partitions. It is available for Windows, Mac, Linux, and FreeBSD.
Clonezilla is equipped with multicast cloning, meaning it can copy the hard drive and put it onto multiple devices simultaneously. To keep your data safe, it uses a robust encryption system called AES-256. It can also handle different types of hard drive formats, including BMR and GPT partitions.
Moreover, it can work with drives with bad sectors, a feature not commonly found in other free cloning tools. It also allows system administrators to perform bare backups and deploy entire systems easily. Such features make Clonezilla an invaluable asset for large networks.
3. Macrium Reflect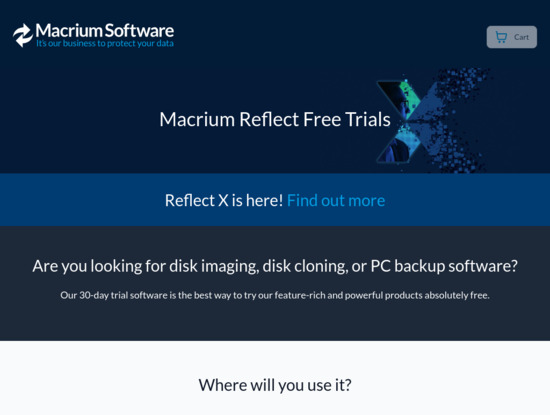 Macrium Reflect 8 Free is the latest backup and cloning software for Windows from Macrium, known for producing reliable image-based backup software. With Reflect 8 Free, you can clone active systems directly from one disk to another, make backups of disks as image files, and easily migrate to SSDs, including 4k optimizations.
Reflect 8 Free comes with a helpful WinPE-based recovery media builder. This means you can recover your system even if it doesn't boot up. It can be very useful if you ever encounter a sudden system failure or crash.
You can upgrade to the Macrium Reflect 8 Home edition if you want even more features. This version has extras like rapid delta cloning, ransomware protection, AES 256-bit encryption, and intra-daily scheduling of automated backups. Reflect 8 Free is totally free to use, while Reflect 8 Home costs a set amount for a perpetual license.
4. AOMEI Backupper
AOMEI Backupper is a versatile backup and recovery software that helps protect your system against crashes and data loss. It is available in free and paid versions, with the Standard edition being free. It comes with a user-friendly interface, making it ideal for novice users.
AOMEI Backupper Standard for Windows enables users to create an exact copy of their hard drive through cloning and imaging, including the operating system, applications, and data. It also has the ability to create bootable discs, which can help you recover your system in case of a crash.
Additionally, the software offers NTFS to FAT 32 conversion, incremental backups, automatic backups, image deployment, real-time sync, data compression, data splitting, backup encryption, etc. With so many advanced features, it is an ideal choice for both home and business users.
5. DiskGenius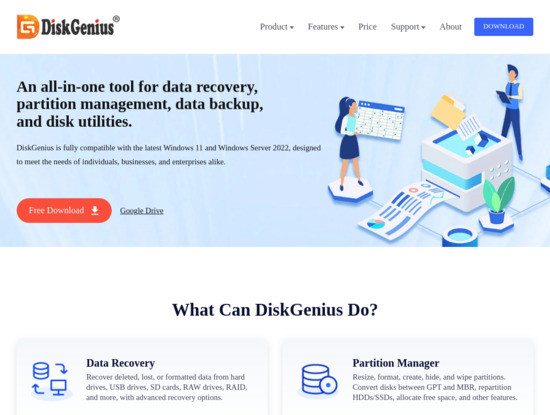 DiskGenius Free Edition is a disk management utility designed for Windows PC users.
Although a premium version of the software is available, the free edition boasts powerful disk and partition management functions alongside its core disk cloning and migration tools, making it a standout option in the market.
DiskGenius Free empowers users to split, migrate, resize, hide, or unhide partitions effortlessly. It also helps optimize 4K for SSD disks and create image-based backups of entire drives or sections into files which can be securely restored using the recovery media builder.
In addition, the software provides features such as securely deleting whole drives and partitions, examining and fixing faulty sectors, tracking hard drive SMART information, and seamlessly transforming between MBR disks to GPTs – all of which add up to an array of powerful functions.
6. MiniTool Partition Wizard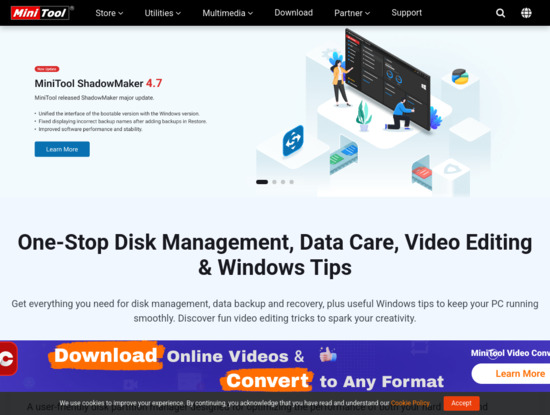 MiniTool Partition Wizard is a reliable disk management and cloning tool for Windows users. The software offers a range of features, including the ability to check system integrity, align partitions, manage and clone disks, and convert MBR to GPT files.
A standout feature of MiniTool Partition Wizard is its ability to recover lost partitions and files, which can be a lifesaver in the event of a system crash or accidental deletion.
In addition to its disk cloning capabilities, MiniTool Partition Wizard allows users to assess disk performance and fix system errors, ensuring that your system is always running at peak performance.
Overall, MiniTool Partition Wizard is a competent disk management tool that lets you do more than just cloning and disk backup. While the user interface can be overwhelming at first, the software's range of features and reliable performance make it a strong contender in the disk management space.
7. DriveImage XML
DriveImage XML allows users to create backup images of entire hard drives or individual partitions in XML format, which can be easily processed using third-party software. It comes with the ability to copy data directly from one hard disk to another, making it easy to clone drives or transfer data between them.
The software also allows users to browse and extract files from backup images to recover specific files or folders when needed. It can also run from a WinPE boot CD-ROM or live CD, allowing users to create backups even when their operating system is not running.
Moreover, it can schedule automatic backups, ensuring that essential data is backed up on a regular basis. DriveImage XML is also highly customizable, allowing users to set the compression level and backup speed as per their requirements.
8. Stellar Drive Monitor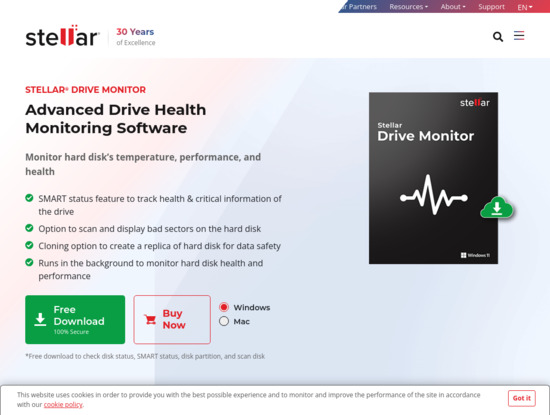 Stellar Drive Monitor is an easy-to-use and reliable hard drive health checker tool that provides a comprehensive solution to monitor the health and performance of your hard drive. The Clone Disk feature of the program enables you to create a replica of your entire hard drive on an external drive.
Moreover, it can scan and display bad sectors on the hard disk to identify any potential issues with the hard drive and take necessary steps to avoid data loss. The software runs in the background to continuously monitor the health and performance of the hard drive and alert the user about any anomalies.
The SMART status feature in Stellar Drive Monitor is also worth mentioning. It provides real-time information on a drive's temperature, performance, and health, helping you keep track of its condition. The program also supports PATA/SATA disk, SSD, and USB hard drives of all sizes, making it a versatile solution for different types of users.
9. Active@ Disk Image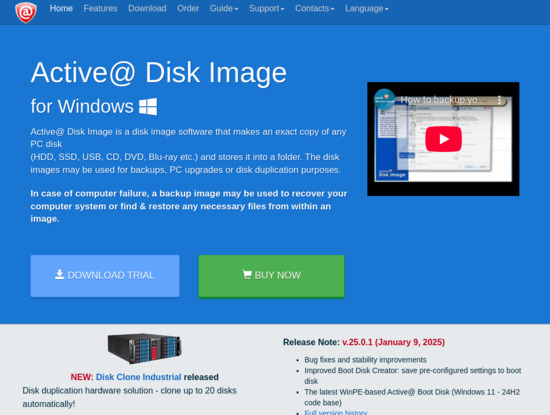 Active@ Disk Image is a powerful hard disk image software that enables users to create an identical copy of any type of storage device, including SSDs, USB drives, HDDs, and Blu-ray discs, and store it in a folder. This makes it an ideal tool for PC upgrades, disk duplication, and backup purposes.
Some features of Active@ Disk Image include the ability to clone disks and mount any image as a virtual drive, image compression to save disk space, and the option to create copies of disk partitions or hard drives containing only occupied sectors.
In addition, Active@ Disk Image allows users to verify the image after creating it, ensuring that the copy is accurate and complete. This feature is especially important for ensuring the reliability of backups.
10. O&O DiskImage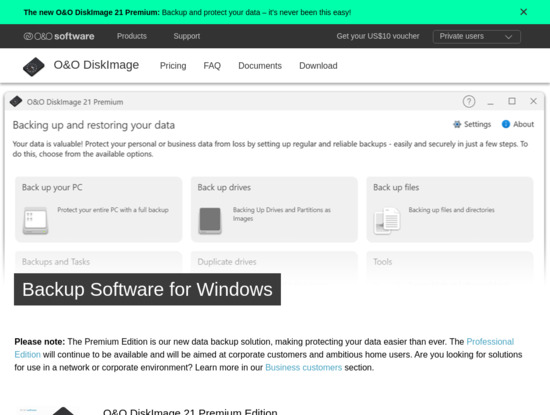 O&O DiskImage is a powerful hard disk cloning and imaging tool that allows you to create an exact copy of your hard drive. One of its standout features is the capability to back up the entire system while it is being used. It is an excellent feature for administrators who must keep their systems running while backing them up.
O&O DiskImage can clone and duplicate entire hard disks and restore them to systems with different machines. Other features of the program include the ability to backup disks and files, create virtual hard drives, and perform incremental and differential backups.
The software also includes a Windows boot system and supports dynamic and GPT volumes. Overall, O&O DiskImage provides an efficient and reliable way to back up your PC.
Conclusion
These are some of the best hard drive cloning and imaging tools available on the market. Each has its own features and capabilities, so it is important to evaluate your needs before choosing a particular software. This will ensure that you can meet your requirements and ensure the security of your data. Best of luck!