With so much of our daily lives taking place on computers and mobile devices, having good typing skills has become a crucial aspect of productivity and efficiency. Luckily, there are plenty of typing software options available to help you hone your skills.
Whether you're looking for an in-depth typing tutor or simple games to help you become a better typist, these 10 best typing software of 2023 will have something for you.
1. Typesy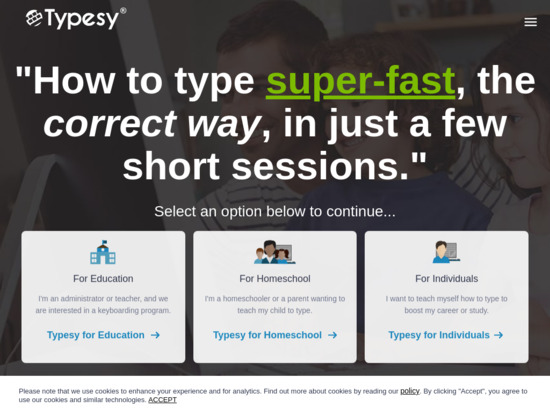 Typesy is a cloud-based interactive typing software that combines videos, games, and exercises. It consists of seven learning strategies, 16 games, and activities, as well as 5,242 typing lessons to cater to individual needs. It also provides ultra-personalized help via video technology for an effective and engaging way to learn and improve typing skills.
One of the significant advantages of Typesy is its advanced text management system, which adapts to users' learning pace and skill level. The software also provides a Diploma certificate upon completion of the course, making it an excellent way to showcase your newly acquired typing skills.
With so many features, it's no wonder that Typesy is a paid software, but it offers a 7-day free trial, allowing users to try it out before making a purchase. It's available for Mac OS, Windows, Android, iPad, and Chrome OS.
2. TypingMaster 11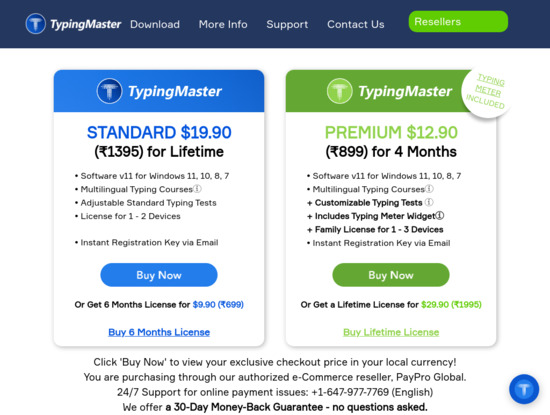 For those who want to have fun while learning, TypingMaster 11 is an excellent option for improving your typing skills. It is a touch typing course (including software) for Windows with a real-time analysis widget called TypingMeter. It analyzes your typing skills and creates personalized exercises to help you improve.
The software offers top-notch typing games to make learning more pleasant. It's available in many languages, including English, French, Spanish, Dutch, German, Swedish, etc. It also supports an assortment of keyboard layouts such as QWERTZ, QWERTY, AZERTY, and more.
With TypingMaster, you can take a free 1-week touch-typing course to identify and eliminate your weak spots. It can be a valuable tool for job seekers or those looking to improve their typing speed and accuracy. Available only for Windows, TypingMaster 11 has both free and paid versions, with the paid version having more features.
3. KAZ
Kaz is a widely recognized typing tutor software that promises to teach touch typing within a few days. It has multiple editions tailored to different groups, such as dyslexia learners, schools, businesses, and families, making it a versatile and accessible option for all users.
Kaz provides age-appropriate words, phrases, and visuals to ensure that users acquire typing abilities that are both valuable and applicable. The software takes advantage of the "Brain balance" system, allowing all three major senses: sound, sight, and touch to be optimized simultaneously for improved memory recall.
The software includes modules designed to maximize users' focus, enabling them to learn and retain new skills easily. It also has a comprehensive admin panel with real-time progress monitoring, giving teachers and managers in both schools and businesses a unique tool to evaluate typing skills of the learners.
Kaz is available for both Windows and MAC OS, and its price varies depending on the edition.
4. KeyBlaze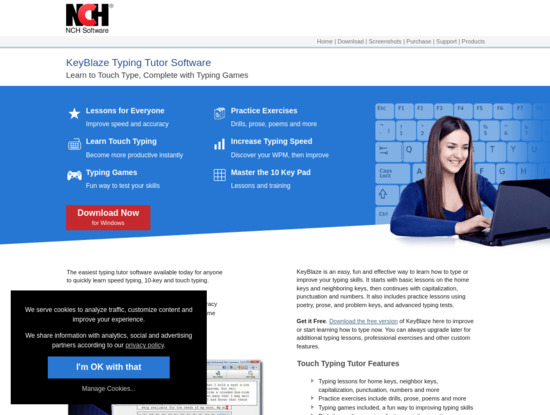 KeyBlaze typing software is easy to operate and offers an array of features to help users improve their typing skills. It includes typing games, dictation exercises, and a skills test in the beginning, to check for progress. Users can measure both gross and net speed of words per minute, as well as set personal goals for their word count.
One of the best features of KeyBlaze is its correct finger placement tutorial, which ensures that users are typing correctly and efficiently. Additionally, KeyBlaze provides users with a certificate upon completion of the course, which can be used for further career development.
Users can also track their improvement in charts, making it easy to track their advancement over time. Overall, it is a great way to learn 10-finger typing in a fun-filled way. KeyBlaze has a basic free version with paid ones for Windows and MAC OS.
5. RapidTyping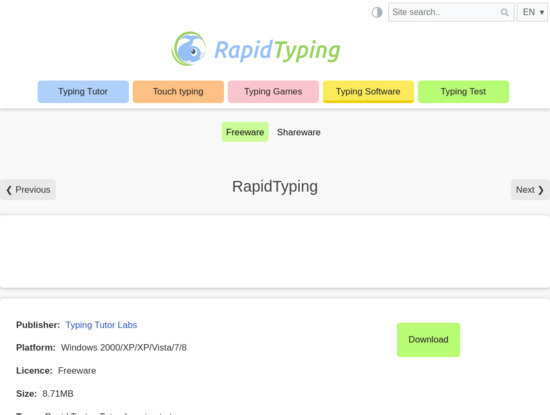 RapidTyping offers a range of features to help users improve their typing skills. It includes an array of sessions and games to provide an engaging and fun way to practice typing. It also has extensive training statistics and customized lessons, ensuring users receive personalized instruction and practice that caters to their needs.
There is a virtual keyboard in the RapidTyping software, which displays moving hands over the keyboard, helping users learn how to place their fingers correctly. This tool also allows users to track their learning progress and view their results at any time, clearly understanding their skill level and areas for improvement.
RapidTyping offers a multi-language interface, making it accessible to users from various countries and regions. Available for Windows, the free software can be utilized to enhance instruction in a classroom setting and self-learning.
6. All The Right Type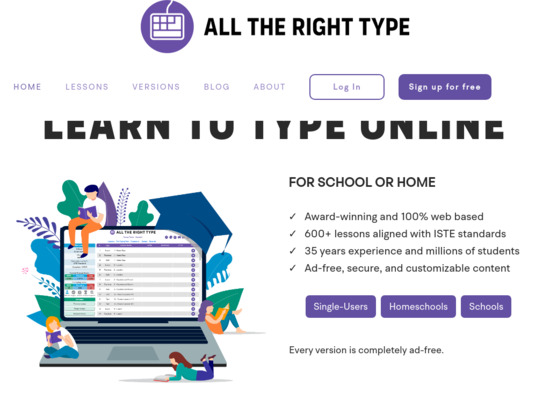 All The Right Type (ATRT) is a comprehensive web-based typing software that offers over 600 lessons plus games, providing an engaging and effective way to improve typing skills. One of the standout features of ATRT is its animation which demonstrates the proper finger reach while typing, helping users develop the correct technique.
ATRT provides immediate feedback and reports, allowing users to track their progress and adjust their learning goals accordingly. With proven pedagogical learning methods, users can rest assured that they receive quality instruction catering to their needs.
The software also includes timed and speed tests, keyboarding games, dictation practice games, and the ability to create custom practice texts/lessons. With ATRT, you can conveniently connect to the internet from any Windows, Linux, or Mac OS computer – anytime and anywhere. Note that the software is fully paid, and there is no free version.
7. Tipp10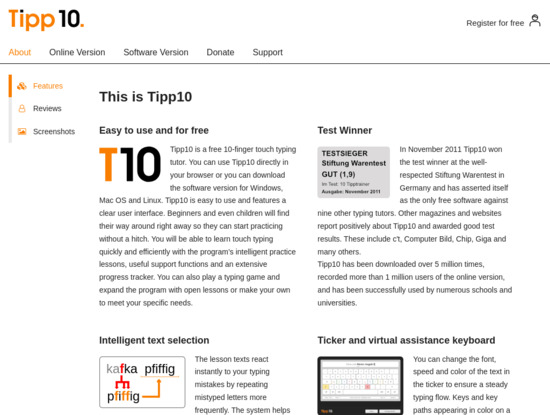 Tipp10 is a free 10-finger touch typing tutor that can be used directly in your browser or downloaded for Windows, Mac OS, and Linux. With its clear user interface and intelligent practice lessons, Tipp10 makes it easy for beginners and children to learn touch typing quickly and efficiently.
The program features a typing game, useful support functions, and an extensive progress tracker to make learning a fun and engaging experience. Its intelligent text selection ensures that lesson texts react instantly to your typing mistakes, helping you eliminate errors and learn touch typing efficiently.
Tipp10 offers a virtual assistance keyboard, ticker, and detailed results after each lesson to help you track your progress and focus on areas that need improvement. Additionally, Tipp10 offers customizable lessons and the flexibility to use your texts for a truly personalized learning experience that meets your needs.
8. Stamina Typing Tutor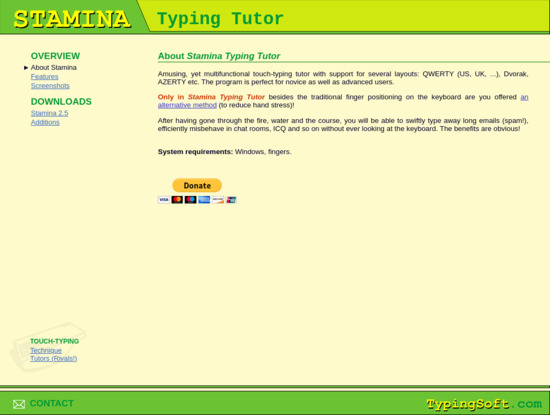 Stamina Typing Tutor is a free typing tutor software for Windows that can help you improve your typing skill. With support for multiple layouts and languages, users can choose the preferred one that suits them best. The software's lessons are designed to help users master specific keys, making it a highly effective tool for improving typing skills.
The software comes with a lesson editor, which allows users to create and customize their own lessons. Users can also choose to enter the text from an external file, making it easy to practice typing with texts that interest them. With its support for multiple users and customizable appearance, the software can be tailored to fit users' individual needs.
The software's timer function is a simple yet effective tool for tracking progress, while the speed and progress graphs provide users with a clear visual representation of their progress over time. Additionally, the software offers detailed statistics on how much has been typed in and how long it took, making it easy to track progress and set goals.
9. Typing Instructor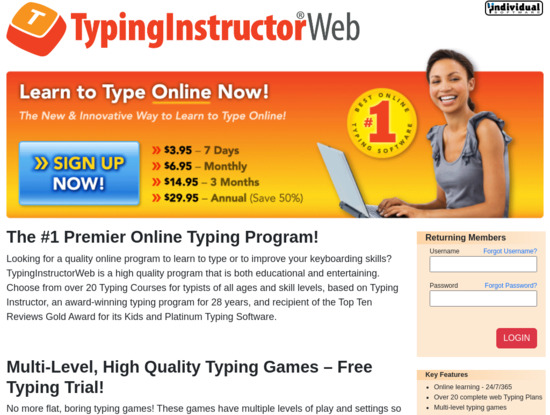 Typing Instructor is a top-notch web-based typing software that offers over 20 typing courses suitable for various ages and skill levels. Users can choose from different courses which are well-organized and easy to follow, with lessons, training exercises, tests, and unit tests.
The paid typing tutor software also includes real-time feedback on progress to help users identify their strengths and weaknesses. Each lesson includes voiceover instructions, an onscreen keyboard, and guided hands demonstrating correct finger-to-key placement. Users can also enjoy practicing their typing skills while having fun with the built-in arcade games.
The software also offers exciting keyboarding practice activities to take a break from the Typing Course. You can also practice typing articles on sports and medicine or even import your own articles to practice typing. Upon completing a Typing Course, you can print a certificate showing the course completed and the WPM count.
10. TypingClub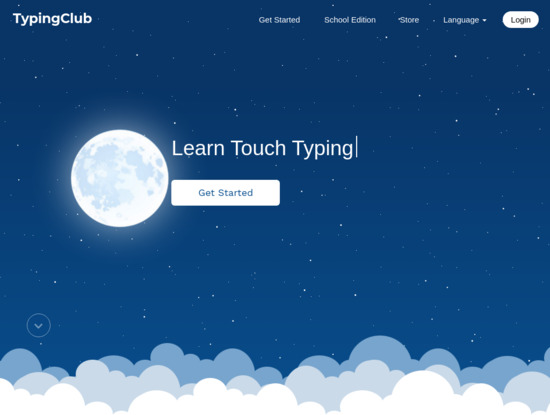 TypingClub is a unique online typing software designed to provide an interactive experience to help users improve their typing skills. One of its standout features is its proper hand posture guide, which ensures users learn to type with the correct hand positioning for long-term comfort and efficiency.
With TypingClub's levels, badges, and stars, users receive recognition for their progress, providing motivation to keep improving their typing skills. Additionally, it offers a voice-over feature, reading every word out loud as users type, further enhancing the learning experience.
Another useful feature of TypingClub is the typing playback option, which allows users to review and analyze their typing performance. As an entirely online platform, TypingClub is accessible from anywhere for free, making it convenient for users to practice and improve their typing skills on their own schedule.
Conclusion
Good typing skills are essential for productivity and accuracy in today's digital world. Finding the right typing tutor software is key to developing these skills quickly and effectively. From lessons tailored to specific skill levels to valuable feedback and statistics, each of the software mentioned above offers unique features that can help users develop their typing skills.
So, choose one that best fits your needs and start mastering your typing skills. Good luck!