WordPress is a versatile platform, but its true power lies in its extensibility through plugins. From SEO giants like Yoast SEO to analytics such as MonsterInsights, the right set of plugins can transform an ordinary blog into a high-performing, secure, and engaging website.
In this article, we delve into the 12 essential WordPress plugins that every blogger should consider integrating into their website. These plugins span various functionalities including search engine optimization, security, social media integration, and user experience improvements.
1. Yoast SEO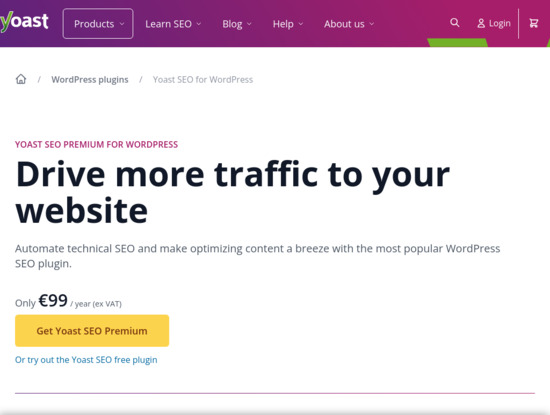 Yoast SEO is an indispensable plugin for WordPress bloggers, with a multitude of features designed to optimize your content and improve search engine rankings. By integrating Yoast SEO into your blog, you can capitalize on the following benefits:
Improved Visibility Through Search Engines
Yoast SEO ensures that your blog is SEO-friendly. It optimizes your posts for search engines, helping them rank higher and thus increasing the chances of organic traffic flowing to your site.
A Guide to Content Quality
Beyond SEO, Yoast provides readability analysis, flagging complex sentences, long paragraphs, and other issues that could make your content less digestible. This means not only can you attract visitors, but you can also keep them engaged.
Keywords That Make Sense
By suggesting focus keywords, Yoast SEO ensures that your content is aligned with what your target audience is looking for. This is essential for reaching the right people and increasing visitor engagement.
Automatic Sitemap Generation
An XML sitemap helps search engines like Google understand the structure of your site, which is crucial for indexing. Yoast SEO automatically creates and updates your sitemap, saving you from doing it manually.
Optimizing Your Social Media Presence
When you share a blog post on social media, you want it to look good. Yoast SEO lets you preview and edit how your posts appear on platforms like Facebook and Twitter, ensuring that you catch eyes and get clicks.
2. WPForms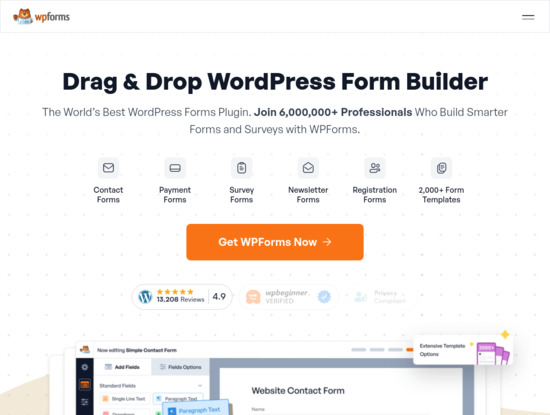 When it comes to making your blog interactive and user-friendly, WPForms is the go-to plugin for creating various types of forms. From basic contact forms to complex surveys, this plugin has your needs covered.
Drag-and-Drop Builder
WPForms offers a drag-and-drop form builder, making it extremely easy for those who are not tech-savvy. You can add different form fields with just a click and rearrange them as needed.
Pre-Made Templates
If you're looking to save time, WPForms comes with pre-made templates that you can use as a starting point. This eliminates the need to create a form from scratch.
Email Integration
WPForms seamlessly integrates with popular email marketing services. This can be particularly useful if you're trying to grow your email list or manage leads efficiently.
3. Jetpack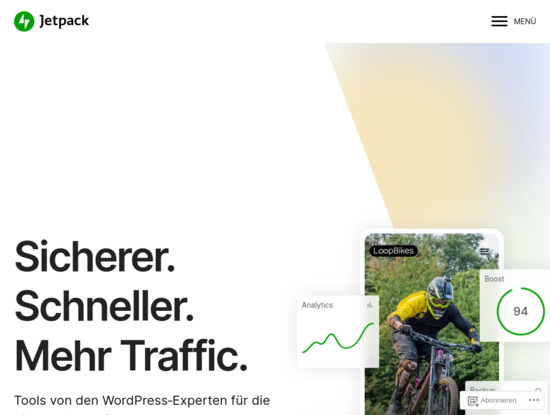 Jetpack is a powerful WordPress plugin designed to enhance your blog's performance, security, and functionality. With its wide array of features, Jetpack can considerably improve your blogging experience. Here's a look at some of the benefits of using Jetpack on your WordPress blog:
Data-Driven Decisions
The plugin gives you comprehensive data about visitor statistics and traffic sources. This can help you understand your audience better and formulate strategies that actually work.
Stay in the Know with Downtime Alerts
No one wants their site to go down, but if it does, it's crucial to get it back up and running ASAP. Jetpack's downtime monitoring will notify you immediately if your site becomes inaccessible.
Beef Up Your Blog's Security
Jetpack provides features like brute-force attack prevention and spam filtering, ensuring a secure environment for both you and your visitors.
Seamless Content Sharing
The plugin allows you to automatically share your posts to social media channels like Facebook and Twitter, saving you time and helping to increase your online presence.
Accelerated Image Loading
The lazy loading feature ensures that images only load when they're visible on the user's screen, speeding up page load times and improving the user experience.
4. HummingBird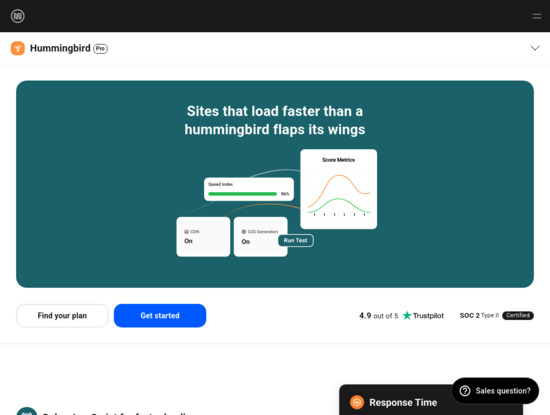 Site speed plays a significant role in user experience and SEO ranking. Hummingbird scans your site and offers practical solutions to improve its speed.
Performance Reports
Hummingbird provides comprehensive performance reports that outline issues affecting your site's speed and provides actionable recommendations to address them.
Caching
Caching is essential for speeding up your site. Hummingbird's caching feature stores frequently accessed data to reduce the time it takes for your site to load.
Code Minification
This feature minimizes the size of your CSS and JavaScript files, thereby improving the load time of your blog.
5. Smush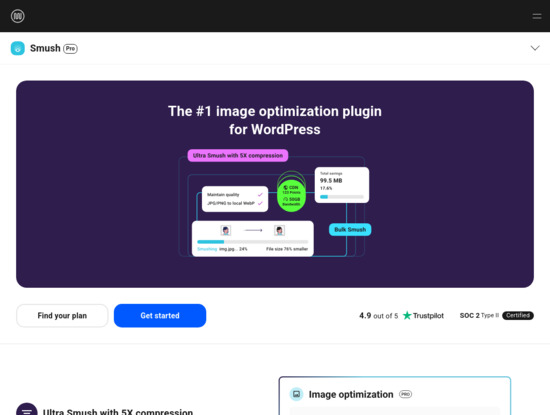 Images bring life to your blog posts but can also slow down your site. Smush optimizes your images without compromising quality, enhancing both speed and visual appeal.
Lossless Compression
Smush offers lossless compression, ensuring that your images maintain their quality while being optimized for faster loading.
Lazy Loading
This feature helps to speed up page load times by only loading images as they are about to be displayed on the user's screen, rather than loading all images when the page first loads.
Bulk Optimization
If you've got a backlog of images that need optimizing, Smush can handle multiple images at once, making the process efficient and less time-consuming.
6. MonsterInsights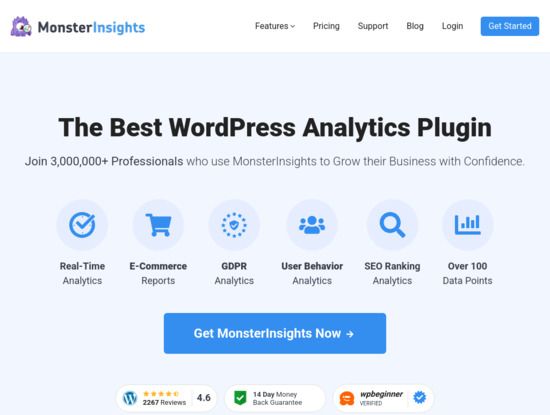 MonsterInsights is a comprehensive Google Analytics plugin for WordPress, allowing you to seamlessly integrate analytics data and make informed decisions for your blog. Equipped with user-friendly dashboards and insightful reports, MonsterInsights helps you track the effectiveness of your content and strategize for growth. Here's a rundown of the key benefits of using MonsterInsights on your WordPress blog:
Easy Google Analytics Integration
MonsterInsights makes connecting Google Analytics to your WordPress blog a breeze. It allows you to view vital metrics right within your WordPress dashboard.
In-Depth Tracking and Reports
It offers a wide range of tracking options, from understanding traffic sources and popular posts to user behavior analytics.
Enhanced Tracking Features
You can also monitor specific events like downloads or outbound links, offering a more granular understanding of user actions.
Real-Time Statistics
Stay updated on your blog's current performance with real-time data, helping you adjust your strategies on-the-go.
SEO Insights
The plugin also offers valuable insights into your SEO strategies, complementing tools like Yoast SEO by showing data on organic search and popular keywords.
7. Akismet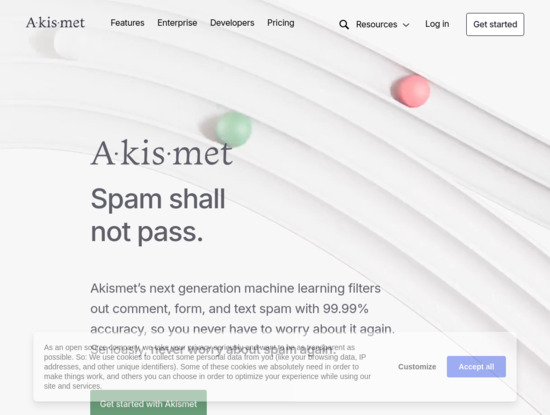 Akismet is a popular WordPress plugin that plays a significant role in safeguarding your blog by filtering out spam comments and malicious content. Having Akismet integrated into your blog will provide a cleaner and safer environment for you and your readers. Here are some of the core benefits of using Akismet on your WordPress blog:
Automatic Spam Filtering
This feature sorts through incoming comments, automatically weeding out those that appear to be spam. This keeps your comment section clean and trustworthy.
More Time for Content Creation
By taking over the task of spam filtering, Akismet frees up your time, letting you focus on content creation and other important activities.
An Enhanced Reader Experience
A spam-free comment section encourages more meaningful interactions among readers, enhancing the sense of community around your blog.
Boosting Your Blog's Credibility
A clean, spam-free comment section makes your blog appear more credible and professional, which is key to attracting and retaining readers.
Guarding Against Malicious Content
Apart from spam, Akismet also checks for malicious links in the comments, adding an extra layer of security to your blog.
8. Smash Balloon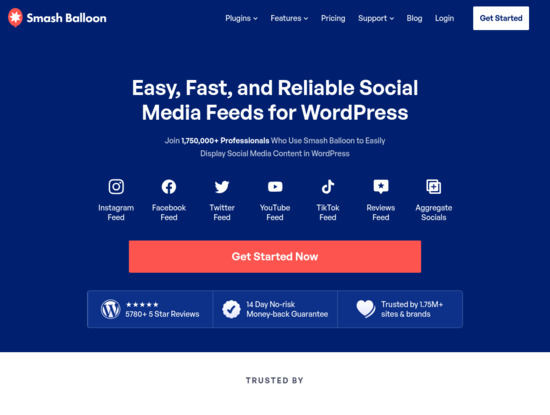 Smash Balloon is a collection of social media feed plugins designed to help you showcase your social media content on your WordPress blog, creating a more dynamic and engaging experience for your visitors. These plugins enable seamless integration of social content from platforms like Facebook, Twitter, Instagram, and YouTube. Discover the advantages of using Smash Balloon on your WordPress blog:
Social Media Content Display
Smash Balloon allows for seamless integration of social content from platforms like Facebook, Instagram, Twitter, and YouTube.
Increased User Engagement
The plugin encourages users to interact with your posts, thus improving engagement metrics on both your blog and social media channels.
Customizable Feed Design
You can modify the appearance of your social media feeds to align with your blog's branding, providing a consistent user experience.
Automatic Updates
Smash Balloon ensures your embedded social feeds are always updated, relieving you from manual content refreshing.
SEO-friendly
The plugin can help in SEO efforts by potentially boosting site rankings through increased user interaction and social signals.
9. Yet Another Related Posts Plugin (YARPP)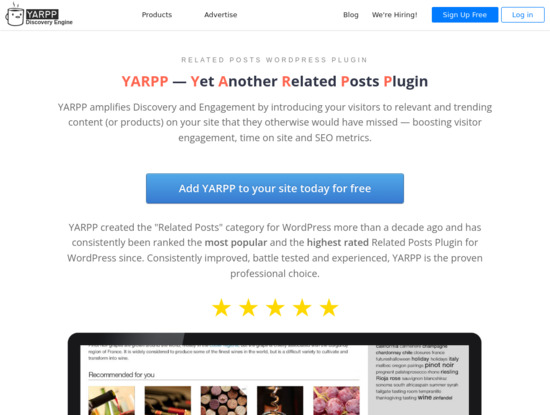 Maintaining reader engagement is essential for any blog. YARPP helps you do this by displaying related posts that are relevant to the content the visitor is currently reading.
Algorithmic Matching
YARPP uses an advanced algorithm to select related posts that are genuinely relevant to the current post, thereby increasing the likelihood of the user clicking through to read more.
Thumbnail or List Display
You can choose to display related posts in a thumbnail grid or a simple list, giving you flexibility over how they look on your blog.
Customizable Templates
If you have a specific design in mind, YARPP allows for customizable templates, enabling you to match the related posts section with the overall aesthetic of your blog.
10. Revive Old Posts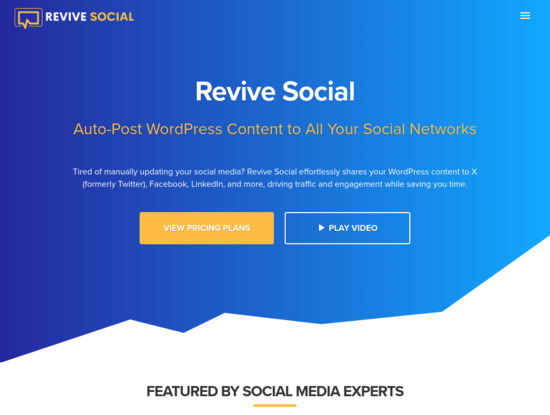 Revive Old Posts is a practical WordPress plugin designed to automatically share your older blog posts across social media networks, boosting their visibility and driving traffic to your website. By keeping your evergreen content in circulation, Revive Old Posts helps you maximize the value of your existing content. Here are the core benefits of using Revive Old Posts on your WordPress blog:
Increased Content Exposure
By automatically sharing older posts on social media, Revive Old Posts helps keep your evergreen content in front of new audiences.
Time-Saving Automation
It saves you time by automating the sharing process, allowing you to focus more on content creation.
Customizable Sharing Options
You can choose what gets shared and when, offering you full control over your old content.
Enhanced Website Traffic
Regularly sharing older content can drive more traffic back to your blog, which may contribute to better search rankings.
SEO Benefits
The plugin can augment your SEO efforts by improving your site's "freshness score," indirectly boosting its search engine ranking.
11. Pretty Links
Pretty Links is a powerful WordPress plugin built to help you manage, shorten, and brand your links, resulting in cleaner, more memorable URLs that enhance your blog's credibility and user experience. By using Pretty Links, you can simplify the process of creating and tracking custom URLs to boost the performance of your blog. Discover the benefits of using Pretty Links on your WordPress blog:
Custom Branded URLs
Pretty Links allows you to create unique, branded URLs that include your blog's domain name, helping you maintain brand consistency and improve the recognition of your site.
Link Tracking and Analytics
The plugin provides in-depth tracking and analytics for your custom links, offering valuable insights into click statistics and conversions, enabling you to optimize your content and marketing strategies.
Simplified Link Management
With Pretty Links, you can easily manage and organize all of your custom URLs in one place, making it more convenient to access and update them as needed.
Affiliate Link Optimization
Pretty Links is particularly useful for bloggers that engage in affiliate marketing, as it enables the creation of clean, branded URLs that are more appealing to click on, potentially increasing your affiliate revenue.
SEO-friendly
While not directly related to Yoast SEO, Pretty Links can contribute to better user experience and search rankings by offering cleaner, easier-to-remember URLs that encourage user engagement and sharing.
12. OptinMonster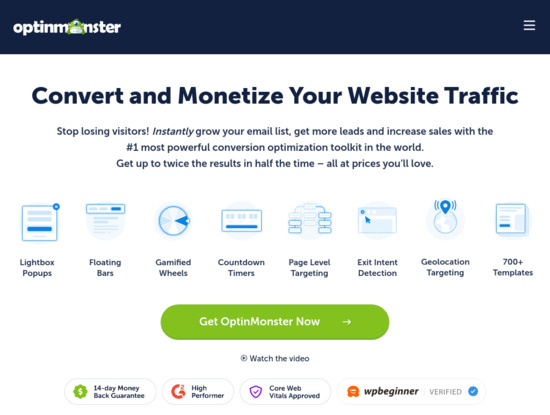 OptinMonster is a powerful conversion optimization plugin designed to help you capture leads and grow your subscriber base through targeted marketing campaigns. With its extensive range of customizable templates and advanced targeting features, OptinMonster enables you to connect with your visitors in a more personalized manner. Here are the main benefits of using OptinMonster on your WordPress blog:
Increased Subscriber Base
OptinMonster allows you to create eye-catching opt-in forms, pop-ups, and banners that encourage visitors to sign up for your mailing list or download your lead magnets, expanding your subscriber base and nurturing potential customers.
Advanced Targeting Features
The plugin offers advanced targeting options, such as page-level targeting, geo-location targeting, and exit-intent technology, ensuring that your campaigns reach the right audience at the right time.
A/B Testing
OptinMonster enables you to test different opt-in form designs, copy, and targeting options, allowing you to identify the most effective strategies for boosting engagement and conversions.
Seamless Integration
OptinMonster smoothly integrates with various email marketing platforms and CRMs, facilitating efficient lead management and marketing automation.
SEO-Friendly
While not directly related to Yoast SEO, OptinMonster can contribute to your overall SEO strategy by improving user engagement and building a loyal audience, both of which can have a positive impact on your search rankings.
Bonus Plugins and Tips for an Enhanced Blogging Experience
In addition to the plugins mentioned earlier, there are other resources and strategies that can further optimize your blog.
WordFence Security
This plugin offers robust security measures against common threats like hacking attempts and malware, ensuring a safe environment for you and your visitors.
W3 Total Cache
Improves website performance and speed, contributing to a better user experience and potentially higher search rankings.
Tailwind
Particularly useful for blogs with a strong focus on visual content, Tailwind streamlines Pinterest and Instagram content management.
Consistent Content Creation
Maintaining a regular publishing schedule helps engage your existing audience and attract new visitors, which can also have a positive impact on your search rankings.
On-Page SEO Optimization
Beyond using plugins like Yoast SEO, manual optimization of elements like title tags and meta descriptions can further improve your search visibility.
Networking
Building relationships with other bloggers and industry leaders can expand your online presence, boost your credibility, and create valuable backlinks.
In Conclusion
Leveraging essential WordPress plugins like Yoast SEO, Jetpack, and Akismet can significantly improve various aspects of your blog, from SEO to user experience. These plugins, along with the bonus tools and tips discussed, offer a comprehensive approach to blog optimization.
By carefully integrating these tools and following best practices, you can maximize your blog's potential and provide a seamless, engaging experience for your audience. Your success will likely be the sum of these well-chosen parts. Happy blogging!